Becky and I usually have some sort of project going on.  We are right at the end of giving our backyard a complete makeover.   Our next project is our master bathroom.   Right now, it lends itself to the boring side.   It is what came with the house and it is one room that we just haven't touched yet.    We are looking at new bathroom vanities among other things.

Here are our favorite ideas, all from Wellborn.com. This post is sponsored by Wellborn Cabinet, Inc in conjunction with Blog Meets Brand and I have been compensated for my participation. All opinions are my own."  They have a high value standard for home cabinetry & we have already used their cabinetry in our kitchen in the last home that we were in (they have something for every room in your home.)
All of the images came from this page. 
1. We liked the lighting in this one and the drawers above the cabinet doors. 

2. Becky loved the walls on the next two pictures.   (and the cabinet doors on this picture) 

3- We love this look – it reminds us of Hilton Head.  It seems to have a nautical look to it.


4.  We liked the shelving cabinets above the bathtub.  Becky's parents have this in their master bathroom and it is really a great idea!

5. I like everything about this design, especially the center cabinet.  It breaks up the mirror space and counter space, but looks like it belongs. 
6.  We liked the color of this one and the cabinet doors & crown molding on the top.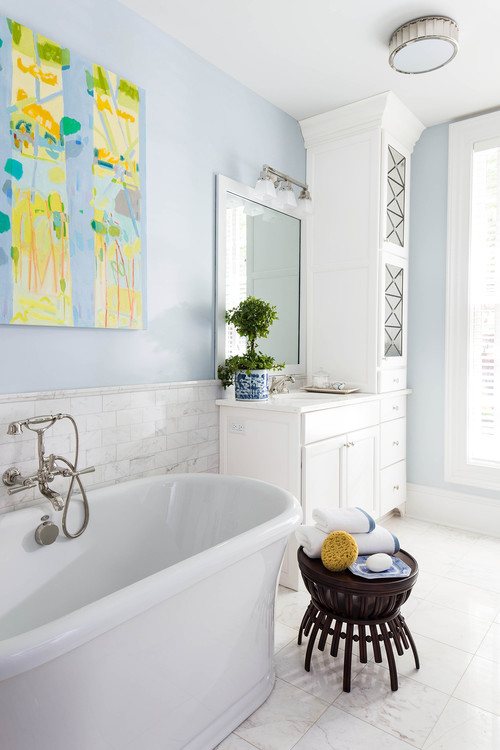 The reason that we found Wellborn is because they have a program called You Draw It – The idea is that You Draw It, they can make it.  This program changes customer's concepts into creations. Some modification examples: special sizes, custom options, or special cabinets (like this one):

Becky liked the ColorInspire tool (where you can pick the color of the cabinets from thousands of paint color options).
I really like their SmartDesign – where it just brings technology into your cabinetry (we want the one where the cabinet shelves that lower to the countertop and lift back up with a push of a button.
We are going to use them to give our kitchen a makeover next (after the bathroom).   We just entered to win their Kitchen Makeover.


 Thanks to Wellborn.com for today's ideas.  They are the Essence of Cabinetry – Crafted by People Who Care – Made in America – Your Whole Home Solution – Be Yourself, Be Creative, Be Inspired